MVMNTM Gym in Concord, California is hosting a World Chase Tag event on Sept 29-Oct 1.
Friday evening will be an Open Gym session from 7:30 to 10:30PM.
Saturday matches begin at 12:15 with Check-In for Athletes and Teams at 11:00am.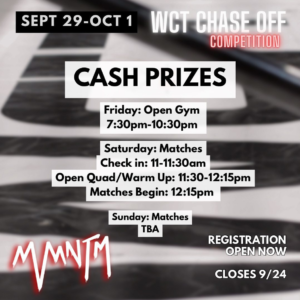 World Chase Tag is the first and only global league for competitive tag.
Two players compete head to head on the official course, The Quad™.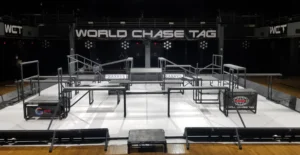 Each Chase is 20 seconds long with one Chaser and one Evader.
There is a 25 second Rest Period between Chases.
The winning athlete in each Chase stays on as the Evader for the next Chase.
A team is awarded one point for each Evasion they make (I.e. when the Evader lasts 20 seconds without getting caught).
Tags must be made with the hand (I.e. NOT the foot).
If an athlete steps out of bounds, they lose that Chase.
This exciting, fast-paced sport is growing rapidly around the world and can be seen on ESPN and on the World Chase Tag official youtube channel where it has over 200 million views.
Follow @WCTAmericas on Instagram to stay up to date!
For more information on getting involved, please call American Parkour at 844-4-PARKOUR (844-472-7568)