Team APK Blue
Mark Bowles
Indianapolis | IN | Software Engineer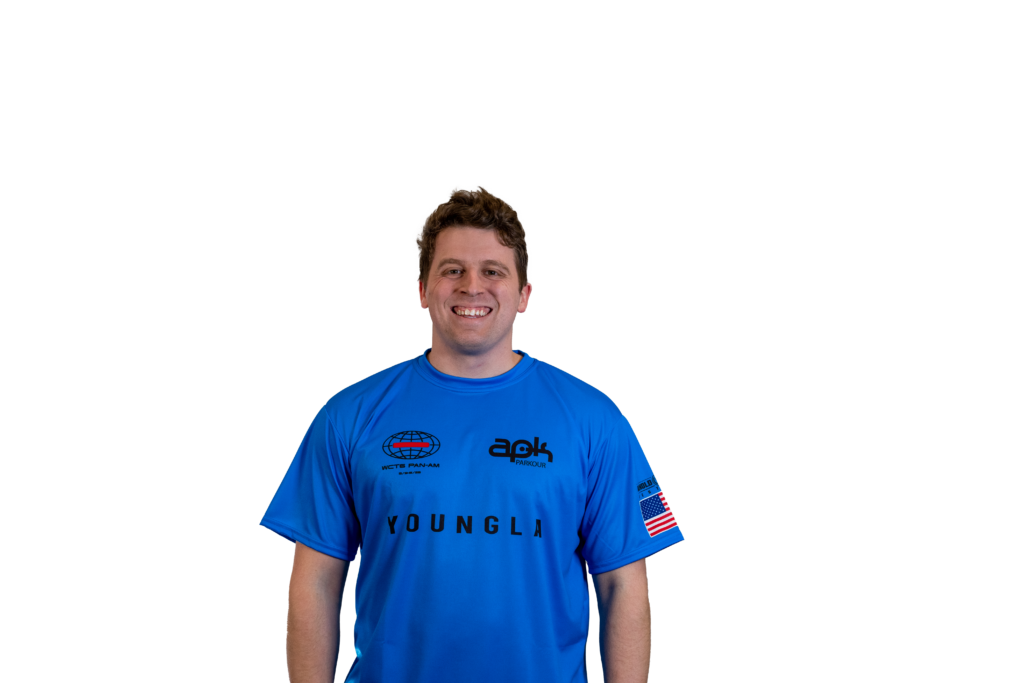 Mark started training parkour in 2011 after a discouraging season of football. Parkour was originally a way for him to stay in shape during the winter, but it became his passion, and all his time was spent training. In 2019 (with a little nudging from the lady he would later marry) he began branching out into the community. That led him to competing internationally, befriending the founder of American Parkour Mark Toorock, and competing in the first WCT USA competition with APK Grey. APK Grey placed fourth, Mark was ranked the third best athlete of the tournament, and soon after became the captain of APK Blue. In addition to leading APK Blue, Mark works with Logan Piner hosting WCT Meetups to help grow the grass roots Chase Tag community. Mark has a few hobbies including video games, anime, and D&D but he spends most of his time on Chase Tag. Some call it dedication to the sport……but most call it an obsession.
Frank Mejia
Cincinnati OH | 26 | Parkour Coach

@frnkmj4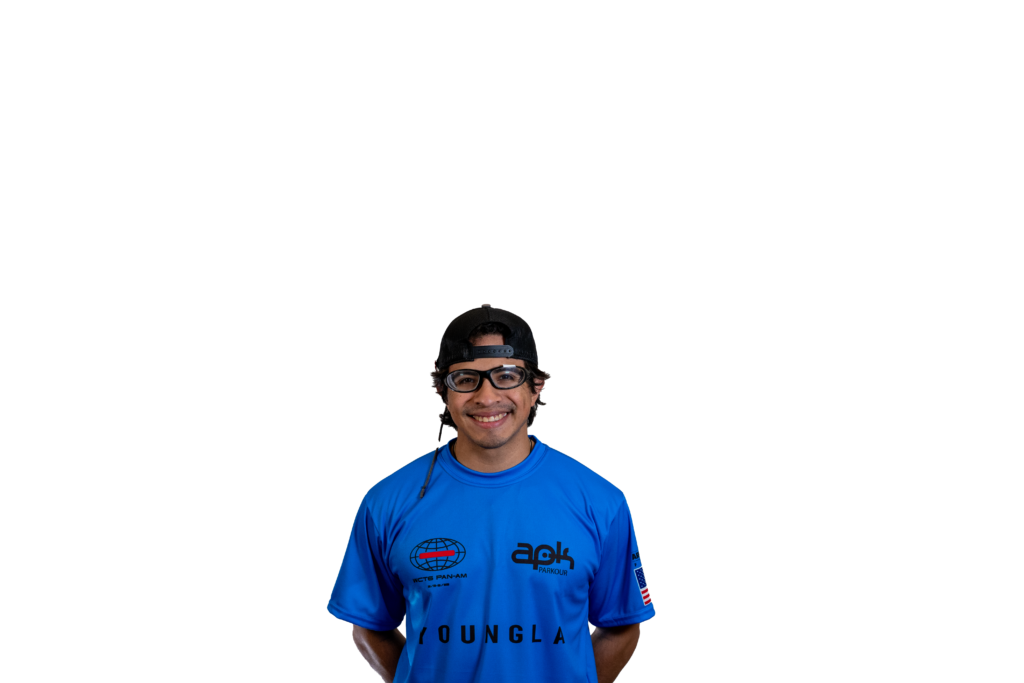 Frank started parkour in 2009 with friends and, has been coaching parkour since 2014, and competing in Parkour competitions since 2016. Frank got his start in Chase tag back in 2018 when he competed with the Original US team "The Boys". He would take a break in 2019 and go back into chase tag competing with APK Grey in the 2020 US Tournament. He would then transition to APK Blue for the 2021 US tournament and proceed to get the record for Fastest Tag at 2.5 secs against the 2nd best team in the nation APEX Sun. Frank's love for movement and chase tag hasn't slowed down in the slightest. When he's not moving, he's usually watching movies or anime, working out, or listening to a new audiobook.
Logan Piner
Indianapolis IN | 23 | Parkour Coach

@_flowgan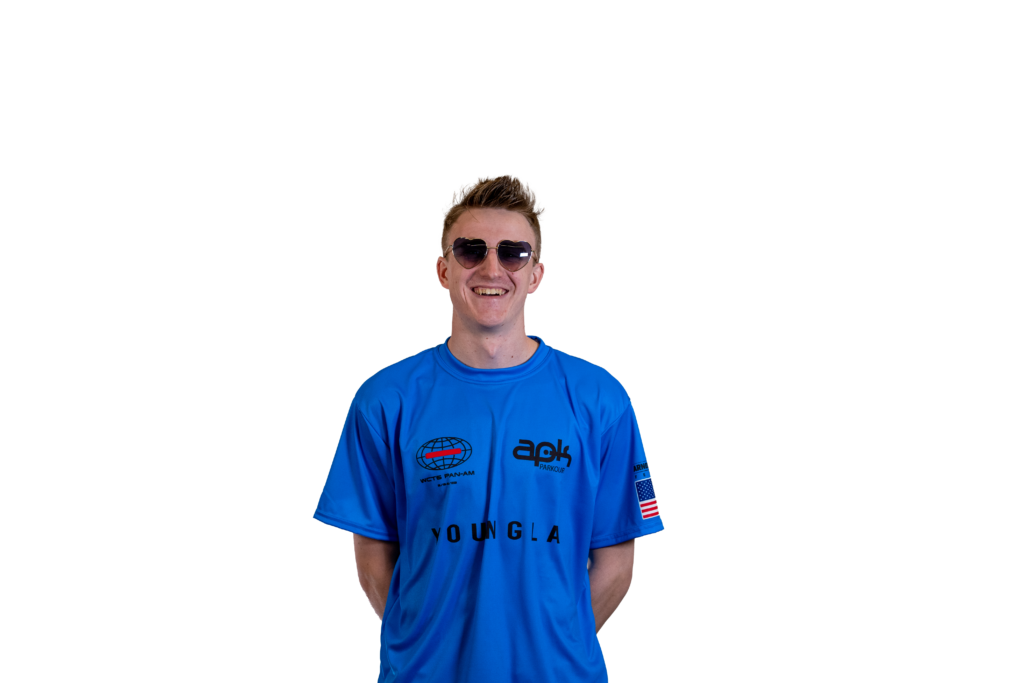 Logan Piner is a playful dork. He has been "playing parkour" since 2009 and coaching since 2017. He is currently the Parkour Director at Hoosier Warriors Gym in Avon Indiana. Logan began his WCT career in 2021 with APK Grey and has now enjoyed 2 tournaments with the boys in blue. Logan is the co-founder and host of WCT Meetup-Indy. If you were to look closely at his feet while training or competing you would see a pair of mix matched animal socks that he wears to channel the animal powers he needs. (i.e. Aggressive Great White Shark and Mythical Speed of a Jackelope.
Elijah van der B
Alexandria VA | 22 | Software Engineering Student / Crossfit Coach and Competitor

@vyver34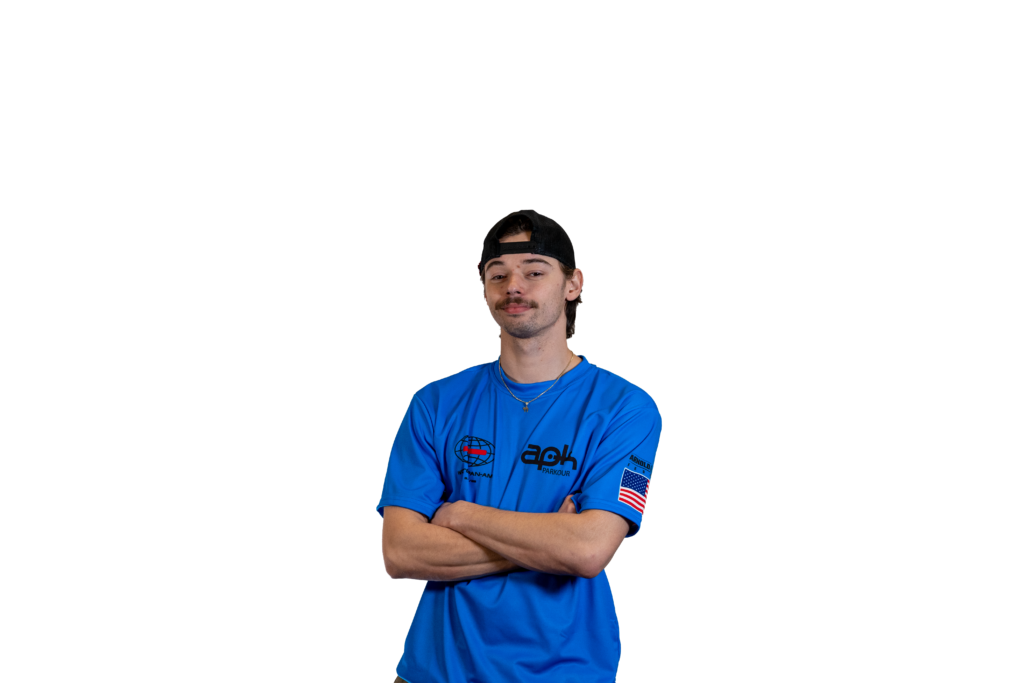 Always an adventurous and active child, being drawn to parkour in 2009 was only natural. The exciting and endless possibilities for self challenge, expression and growth sparked an obsession and enjoyment for a new style of movement. Growing up in north MS but maturing in Kansas City, the tree climbs were traded in for rough walls and a playground perspective of the city. Having a competitive sense with self and sport, watching World Chase Tag online since its inception created a new spark and dream for Elijah, to one day compete on the Quad. To blend parkour skills with a great format of a competitive team sport made it feel like a no-brainer to desire to play. Going so far as driving an 18hr round trip in a weekend just to touch the Quad. It was solidified even more; a burning passion to play, grow and excel at World Chase Tag. Two years of trying to find a team left Elijah quite discouraged, but third time's the charm as he set his course on the APK tryouts. Grateful to the people that have made this journey possible and the bonds made along the way, Elijah is aiming for the top and to support his team well in each way he can.
Matthew 'Brother' Wachtman
Ellicott City MD | 27 | Parkour Coach / Physical Therapy Grad Student

@brother_pk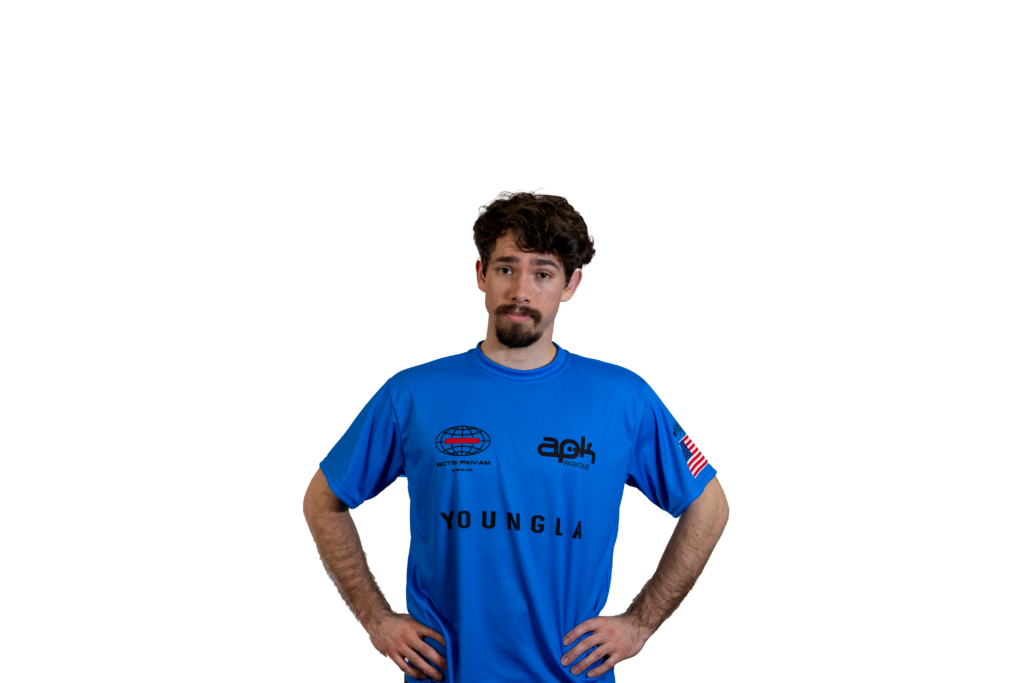 Matthew 'Brother' Wachtman has been training parkour for about 13 years and is a full-time graduate student, pursuing a Doctor of Physical Therapy degree at the University of Maryland. When not training or studying, he enjoys watching anime and playing guitar. Brother is an original member of APK Blue and is by far the best at Super Smash Bros.
Tyler Carrie
Indianapolis IN | 27 | Body Piercer

@tyler_carrie.freerun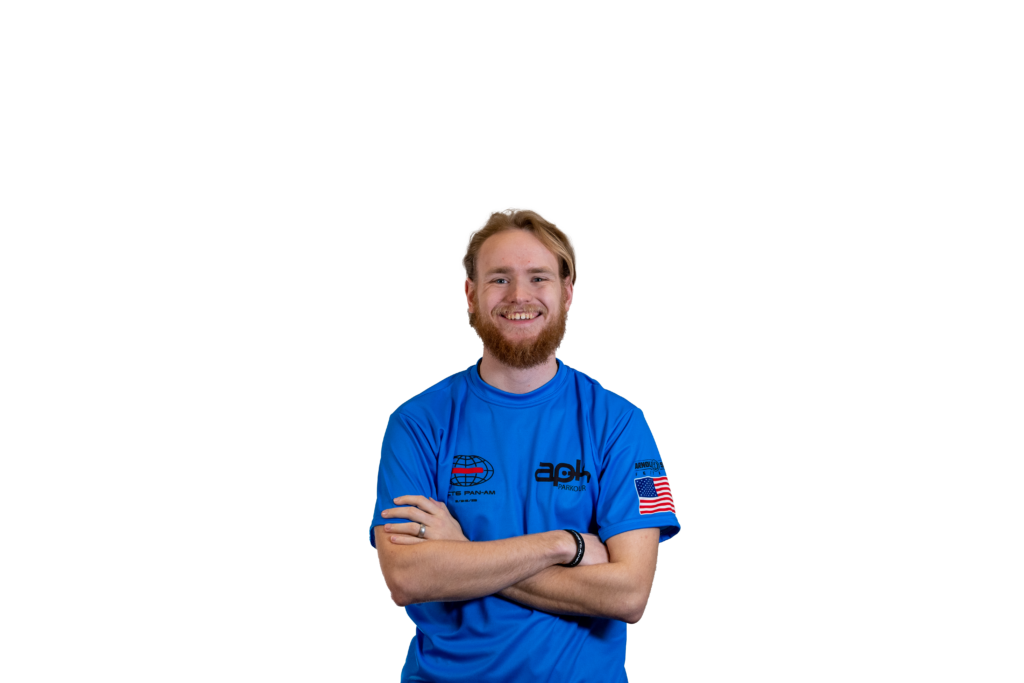 Tyler has trained in Parkour for roughly 10 years with a background in track & field and diving. Growing up in Indiana, he has trained in every environment from dense forests to the cityscape of Indianapolis. As a newcomer to APK, Tyler is excited to prove himself and show what he is capable of as both Chaser and Evader on the Quad, and as a cheerleader and team player from the sidelines.
Team APK Gray
Wenxin Yang
Brooklyn, NY | 27 | Digital Marketing, Production

@wenxinyang, @wxyjumps

Wenxin is the team captain of APK Gray. He was raised in Michigan and has been training Parkour for 15 years. He has been actively involved in the Parkour community since his start in '07 and specialized in speed and movement at height. He originally picked up a camera to document his Parkour journey. This eventually led him to working with global brands as a freelance filmmaker.
Sasha Hordiychuk
Bedford, NH | 22 | Coach

@sasha.hordiychuk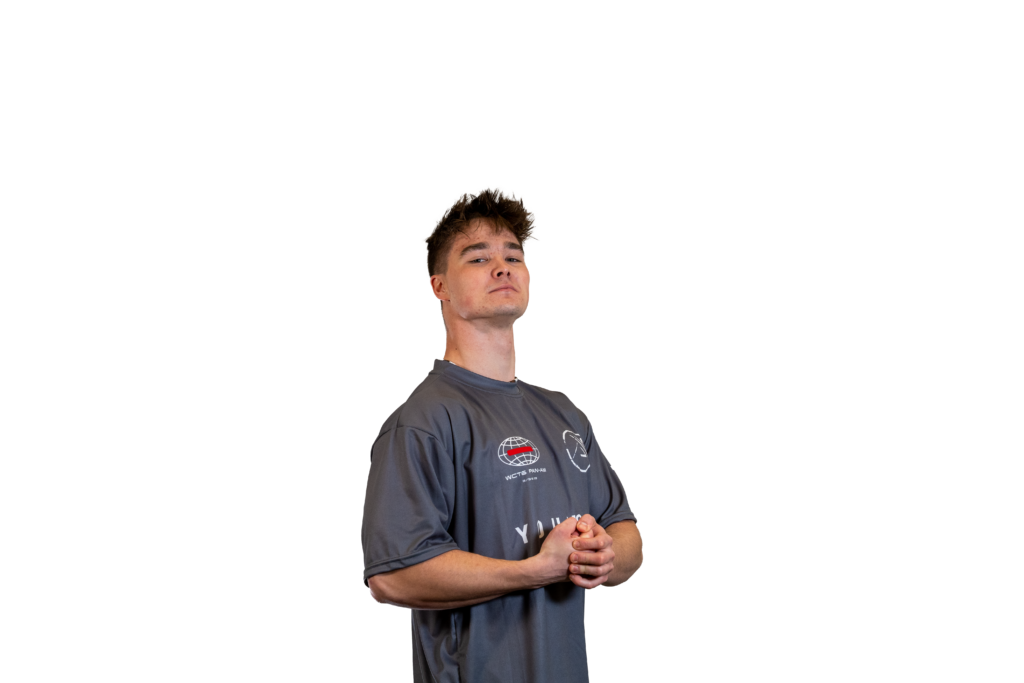 Sasha has been a parkour athlete for over 10 years, originally training in the rural woodlands of NH before moving to Columbus OH for college. Sasha's preferred style of parkour involes utilizing his thick thighs to dominate a spot and move through his surroundings with speed and power. When he's not outside doing parkour you can probably find Sasha in the weight room, chasing ever greater girth and power in his legs as well as the egocentric herculean body that he desires. His other hobbies include rock climbing, long hikes in the mountains, cooking with care, philosphical inquiry, reading, and gazing at beautiful landscapes. .
Ryan Campbell
Northville, MI | 18 | Student

@rcbread999

Ryan is a 1st year member to APK Grey. He's been training parkour for 10 years with the Phoenix Freerunning team in Michigan. He's always had a faster style, becoming speed comp. champion of MPL at just 15 years old. Spurred on by his coach and former APK Blue member, Jesse Harrison, he started training for chase tag. He currently attends Michigan State University getting a degree in international relations. Other hobbies include playing videogames, traveling, and eating copius amounts of icecream.
Jake "JT" Markiewicz
Crown Point, IN | 24 | Student

@JTmarkie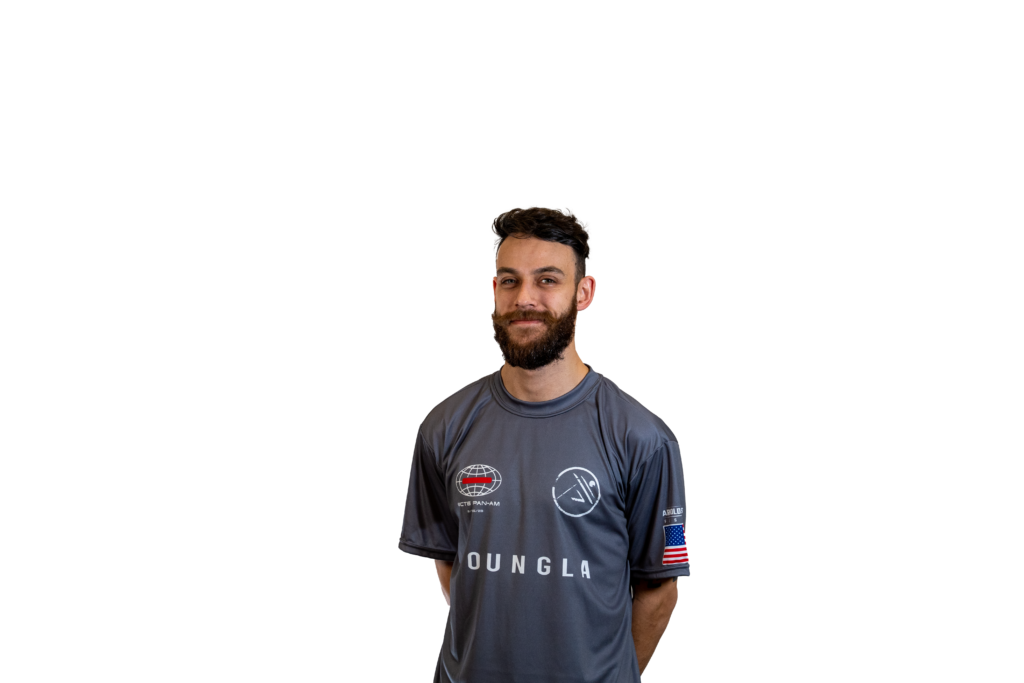 Jake started training parkour in The Region in 2010 before becoming Vice President of Parkour & Freerunning at Indiana University in 2014. He now teaches the discipline at Midwest Training in Dyer, IN. Jake is a first year Chase Tag athlete who brings a creative style, positive mentality, and a whole lot of speed to the quad. In addition to a freerunner, Jake is also an exterior designer, certified private pilot, tiny house builder, unicyclist, futurist, board gamer, concert goer, and adventure traveler with his wife.
Brian Prince
Seattle, WA | 29 | Stunt man

@TallTrainings

Brian has been doing parkour for over 15 years having started in the spring of 2008. At 6'10", he is the world's tallest parkour athlete and had to learn his own way in applying parkour movements to his lanky frame. Having grown up in Atlanta, GA, Brian fell into the world of film/television Stunt work where he has worked on various productions including Black Panther, The Walking Dead and as the titular character in the 2018 film "The Predator". When not jumping around Brian is a trained illustrator having created many parkour inspired designed for community events and a advocate for men's mental health and psychological wellness. Brian currently lives with his partner and their plants in Seattle, WA.
Amin Ashraf
Beaver Creek, OH | 24 | Parkour Coach

@imean_amin_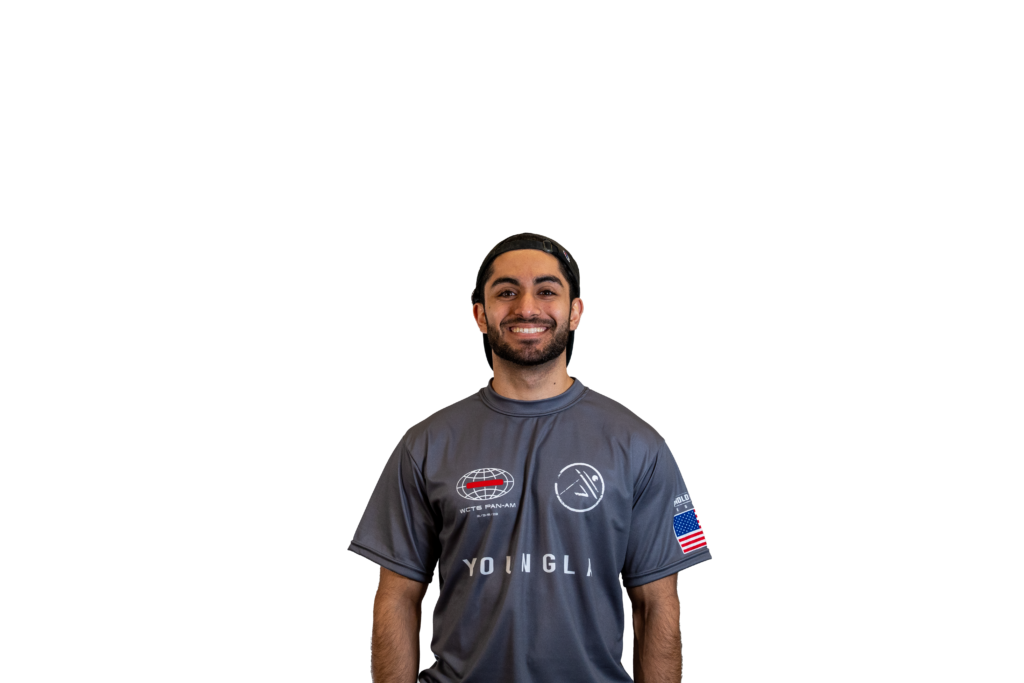 Amin was raised in Ohio and has 10 years of experience training parkour with a mix of speed and acrobatics training. He also enjoys travelling, reading and spending time outdoors, particularly hiking or snowboarding. He is also actively working on building up a parkour community in his hometown of Dayton Ohio. Amin currently attends Wright State University working on his doctorate in medicine.