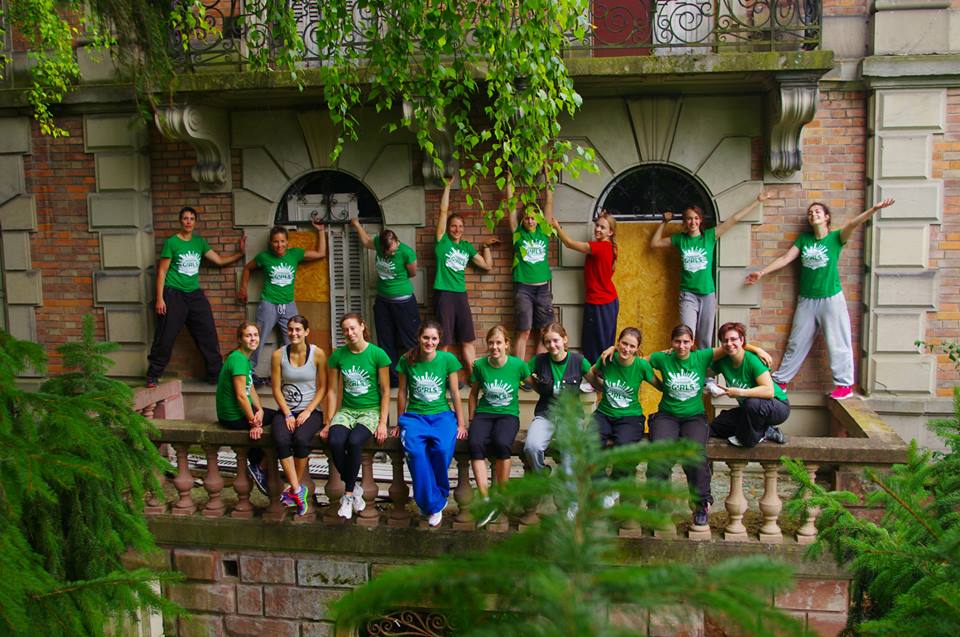 This weekend, I had the pleasure of joining about 15-20 women from all over France (+ one from Switzerland!) for the third annual European Girls Parkour Day. It was a two-day event hosted by Saïmiri Parkour in Mulhouse, France with all sorts of fun, training, challenges, and delicious flammekeuche (or however you spell it)!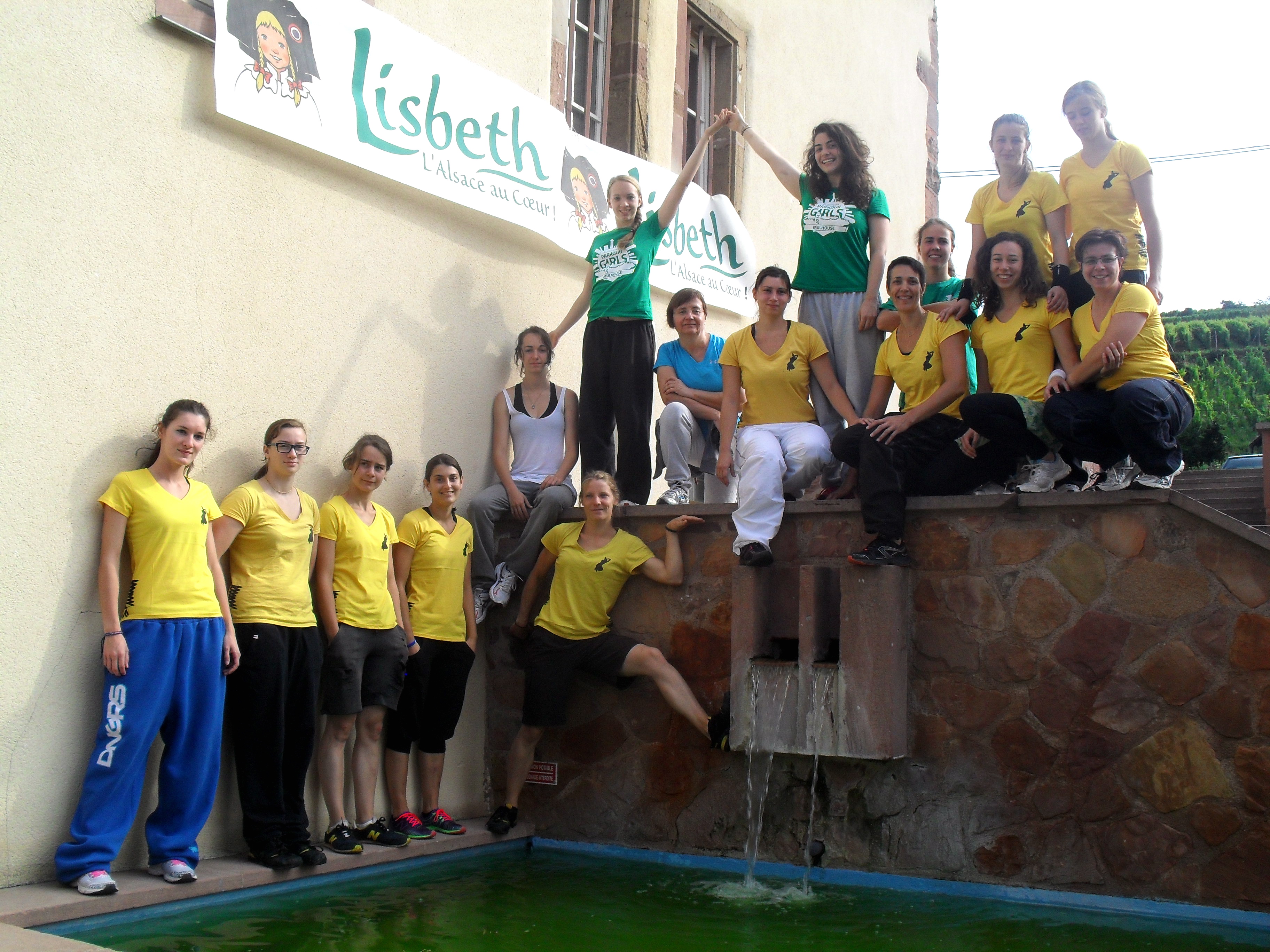 I got there just in time for the afternoon session on Saturday. I was a little nervous because I didn't know a single person there and my French isn't exactly perfect (I'm working on it!) but everyone was super friendly and welcoming and the nerves quickly went away. We started with a group warm up—a little follow-the-leader parkour run & some creative challenges using the scaffolding under an outdoor stage—and then we headed down to an old abandoned stone/brick house (every adventurer's paradise). The house was one of my favorite parts of the day because it was the most challenging for me both physically and mentally.
The challenge was basically to climb around the entire building. It was difficult but doable, and some parts were definitely easier than others. At the end of the third wall, the grip changed a bit presenting a new challenge for me. Up until this point, it was large enough for all of your fingers, but now the grip was only wide enough for the very tips of your fingers. Slightly difficult. Especially for someone who doesn't work on grip strength very often.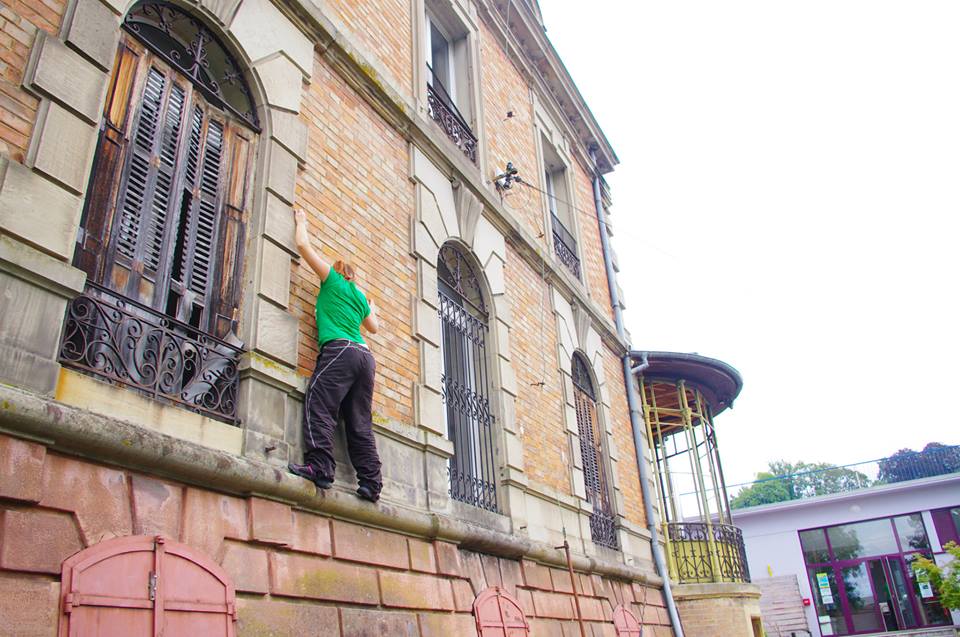 At the corner of the third and fourth wall, I looked down to analyze the one-story drop to the ground. If I fell, I'd be tumbling into the bushes or on a parked car beside them. For some reason, I was completely un-phased by this. Re-directing my attention, I focused on the challenge ahead: the fourth and final wall. There were two areas between the windows that were just barely out of reach for me (see photo below). I almost considered not doing it but I had made it so close to scaling the entire house, I didn't want to give up. Realizing I wouldn't be able to get to the other side of the gap if I was still holding on with my left hand, I decided to take a calculated risk. I knew if I failed, I could bail by hitting the pavement and rolling. I slid my left hand to the side of the stone square and pressed my fingertips against it rather than actually wrapping my fingertips around it. Using the force of my fingers pressed against the side, I kept my body close to the wall and slowly inched my way towards the righthand grip. I felt my fingertips against the right grip, released the left, and grabbed onto the new square in front of me. Phew. Breathe out. One more gap like this and I was back where we started. I climbed down and took a deep breath, amazed with myself. Challenge complete. What an incredible feeling!
I stayed there to watch the other girls and spot in case anyone fell. Some of them took it on fearlessly and some stayed up there to help the others by placing a hand on their backs as they slid across. In the end, everyone who wanted to attempt it was able to with the help of the group. The whole weekend was like this—everyone helping each other and making sure no one was left behind. It was a great atmosphere.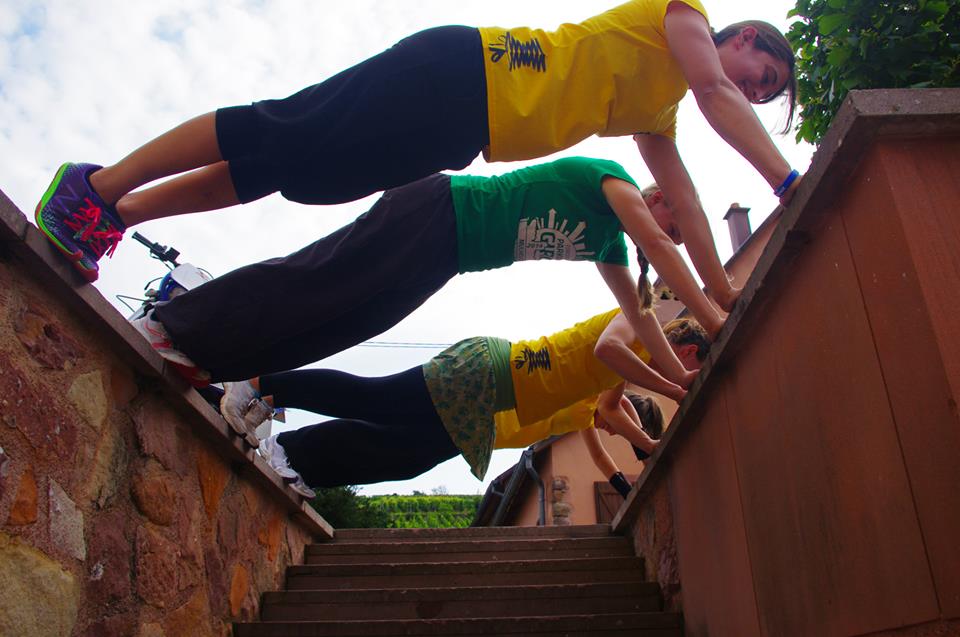 After the house, we headed back to the warm-up spot where we worked on jumps and vaults, then to another spot that was great for wall runs and cool variations of tac to wall runs in the corner. I attempted a wall-run 360 but couldn't quite keep the grip. One of the Saïmiri guys joked, is that really parkour? Okay fine, so it's not very useful. But it was fun!
One more spot and then it was time to eat and rest. We had a delicious Alsatian meal of flammekueche and then we played on the slackline for a bit. We made it to bed around midnight that night… I had to use parkour to get into my bunk bed because the ladder was broken. I did half a wall climb and then slid my body into the bed like a seal. I was truly exhausted.
The next day consisted of more awesome training and traceuse bonding. We hit a few different spots with a delicious BBQ in between in the hills of Soulzmatt. We ended the day with some balance and jumping on a bridge across the river in Mulhouse. We were having lots of fun but eventually it was time to say our goodbyes. Saïmiri gave us souvenir bags with a sandwich and a drink for the trip home which was great. There were lots of these little personal touches throughout the event. It made me feel like I was visiting a family friend, not a group of traceuses I've never met before. It was really nice to be welcomed into the community like that.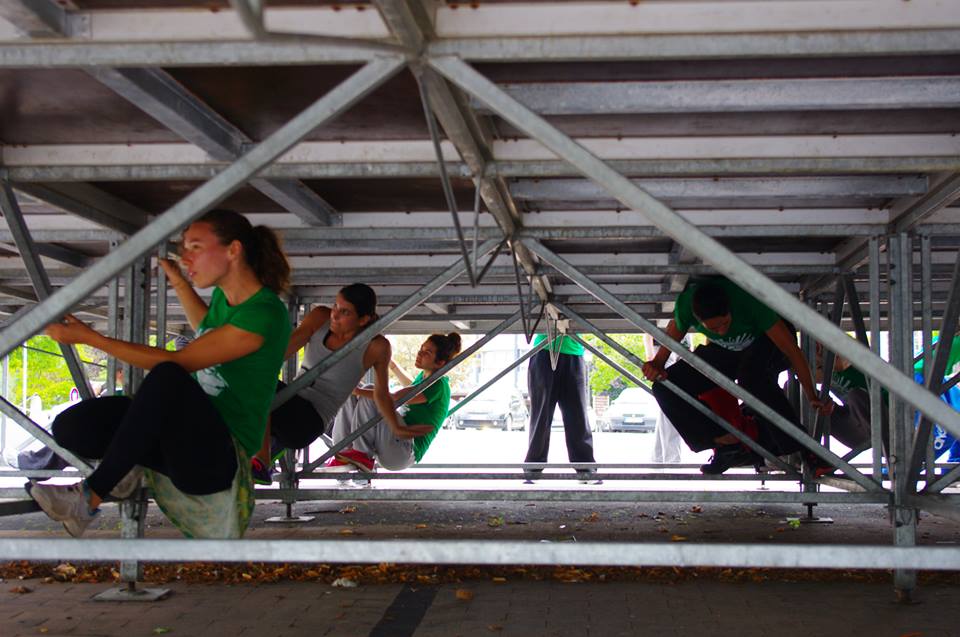 One of the things we talked about during the event was, "Why girls parkour?" We had a really great discussion and it was especially interesting for me to listen to the European girls share their opinions when I've had so many similar talks with people in the U.S. about this. In the end, I think the point is that it creates a community within a community. Why have different parkour associations in different cities? Why not just one giant parkour group or everyone do their own thing? Because we want to connect with people. Just like traceurs in Boston or New Orleans want to meet each other and train together, traceuses from all over the world want to connect with other traceuses. We're a minority and it's really cool to meet other people who share such a unique interest.
Overall, it was a fantastic event. I'm so glad I was able to go. Saïmiri did a great job of organizing everything including food, housing, sweet training spots, and event t-shirts! Even though they're not fluent in English and my French isn't perfect, we were all able to communicate well enough. And to be honest, I don't think you need to speak the same language to train together. Sorry to be cheesy, but movement is truly universal.
Thank you, Saïmiri Parkour for an amazing experience! I can't wait to train with you all again someday.