Recently I took a trip to California to hangout with some friends, get out of the snow and to check out the Tempest Pro Takeover.  Overall, the trip was a fantastic experience that allowed me to learn a lot about parkour, see new teaching styles and experience other parkour communities!
This trip was exactly what I needed to start off the spring and summer of 2014, and I ended up coming back to Canada being super refreshed in terms of goals and my training mindset.  As a result, I felt the need to share my trip, so here is a retelling of my travels:
I flew into LAX on Monday, March 17th pretty late in the evening.  My buddy Andrew Hoskins from Trace Unity was nice enough to pick me up from the airport and give me a lift to my host, Jacob Cormier's place in North Hollywood.  Being tired from my travel day, the three of us talked for a few hours and then I headed to bed.
The next day I ended up connecting with Ryan Ford, founder of Apex Movement, who I hadn't seen in a while.  He invited me to come train with himself, and some other traceurs at Platinum Sports Center in Simi Valley.  A local traceur named Anton offered me a ride on his motor cycle and when we got there I was pleased to see Ryan along with King David, Erica Madrid, Ben Jenkins and a few other trickers from JAM.
I hadn't met Erica before but she was really nice and we ended up having some really fun games of add-on in the trampoline alleys.  It was also nice to see King David again since the last time I trained with him was a few years back when he attended our Annual Toronto Summer Meet.  After a few games of add-on, I broke off from the rest of the group to go explore the parkour setup that they have at Platinum Sports.  It's very well designed with a lot of really nice things to do there.
You can see the parkour setup in this video of Tim "Livewire" Shieff training there.  I ended up hitting the big jump to plyo that he hit and a couple of other pretty fun runs.  After the training session we parted ways, but not before I recorded a quick little combination of flips in the trampoline alley.
The following day, Jacob and I headed to Santa Monica Beach where we enjoyed the sun, did some flippy things and played around on the famous rings.  After the beach we headed to UCLA to meet up with a bunch of other traceurs, including Charles, a coach at Apex Movement, Ezra – a traceur I met in Seattle in August, and founder of Team Sanjuu and Nomadik Projekt, Andrew Obenreder, who was also staying at Jacob's place with me.  That proved to be one of my favourite training sessions of the whole trip, since the spots at UCLA are pretty great.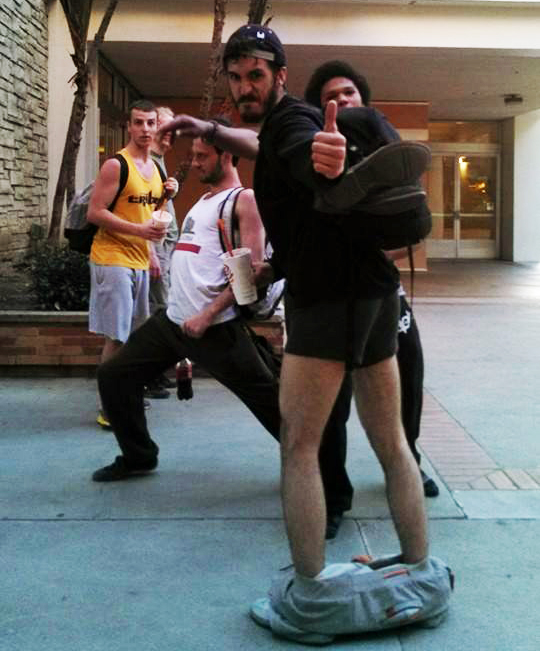 Following the UCLA session, we made a point to head to Tempest South Bay's open gym, since my teammate, and fellow Tribe member, Jimmy Davidson, was going to meet us there with a bunch of people from the Temecula Parkour community.
It was really nice to meet all of them and as usual it was a blast training with Jimmy, I just wish I wasn't so tired from the UCLA session that we had earlier on in the day.  Another bonus of heading to the open gym was it gave me an opportunity to check out the new South Bay facility.  It's definitely a world-class facility both in the literal sense, since it's comprised of famous parkour spots from around the world (including Oleg's bar park and the Santorini Art of Motion Course) and in the professional sense of making the impression of a well put together, organized and sturdy facility.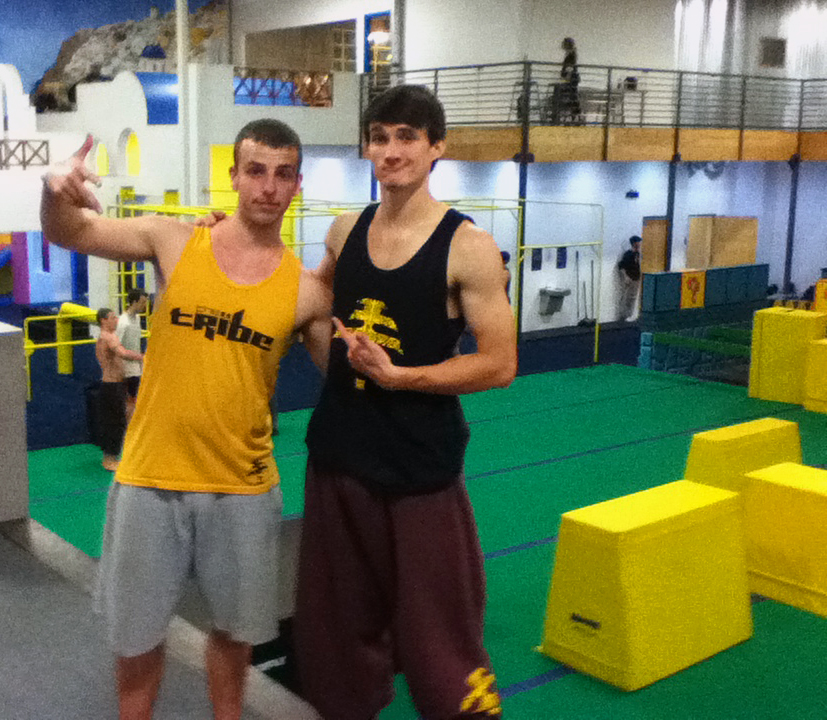 The next adventure that we ended up having was a jam with some German traceurs who were in town on vacation.  They were a part of Team Korra and were a blast to train with.  For this jam we ended up going pretty far south to Long Beach.  Thankfully, local traceur Jeff Jaimes was nice enough to give us a lift and the trip was definitely worth it.  The Long Beach spots are definitely some of the best spots I've ever trained at.
Andrew and I ended up filming a few runs in Long Beach, but up to this point of the trip both of us had been more focused on training than filming.  The Long Beach jam eventually dissolved into the whole group having a meal together and doing a photo-op in the middle of a parking lot.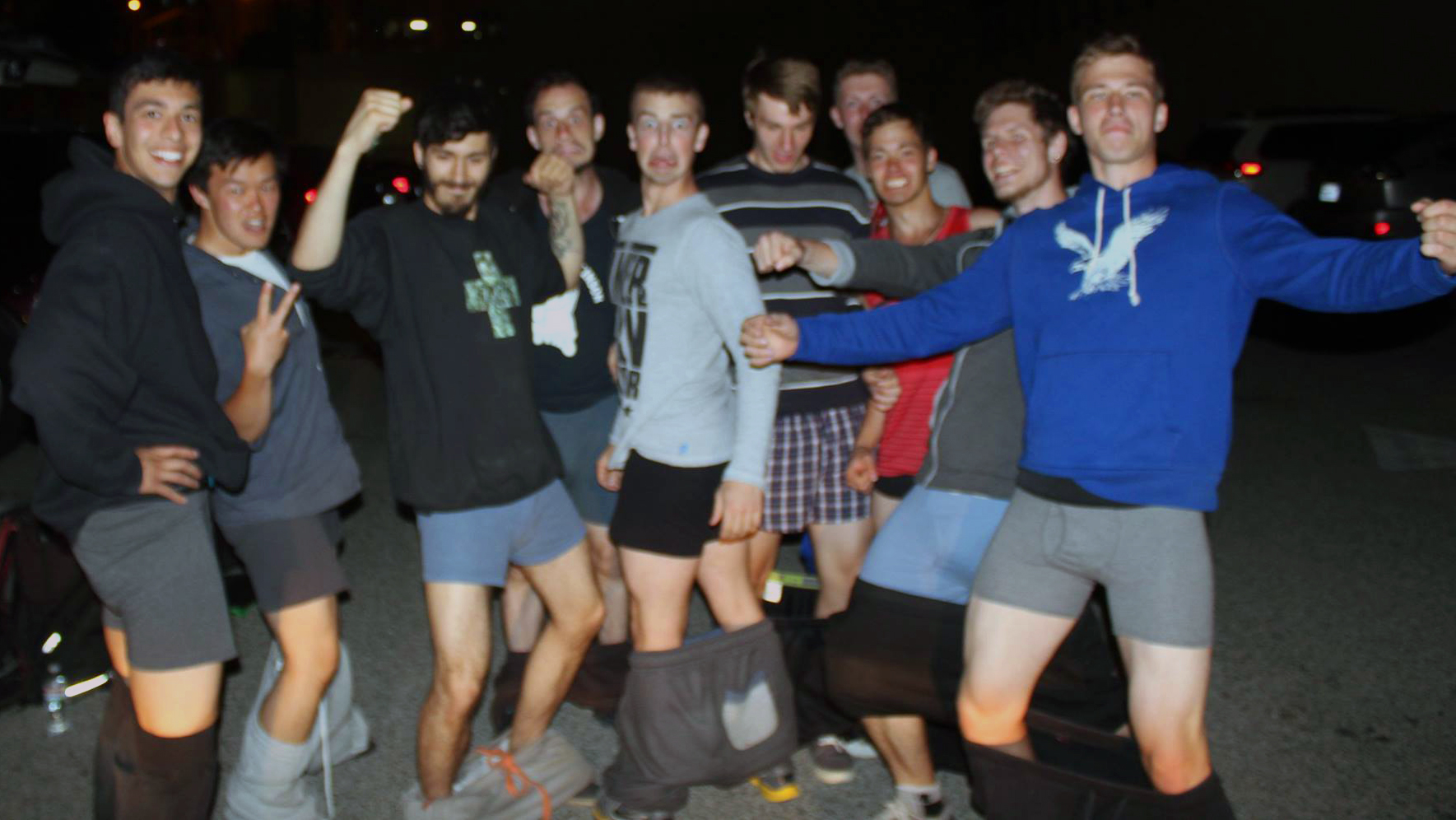 Saturday ended up being another Santa Monica beach day, while Sunday was the Tempest Pro Takeover.  The Takeover itself was a pretty solid event, and although it was busy, there was more room to train than expected.  It was nice to see so many awesome friends that I hadn't seen in a while including Nathan Weston, Vinnie Coryell, Dylan Baker, Cory Demeyers, Jesse La Flair and Michael "Frosti" Zernow.
For most of the Takeover I ended up training and hanging out with Kent Johns (from Move To Inspire) and Stefanno De Lira, who are both ridiculously talented and always up for teaching and sharing their styles and thoughts.  It was also interesting to watch Ape Connection's Pamela Forster teach some of the children how to do laches – I definitely learned a few things from her that I'll be incorporating in my classes back home.
Overall, the Takeover was a success and the preview of the Takeover video was solid, when it's released on Youtube the parkour community is definitely in for a treat!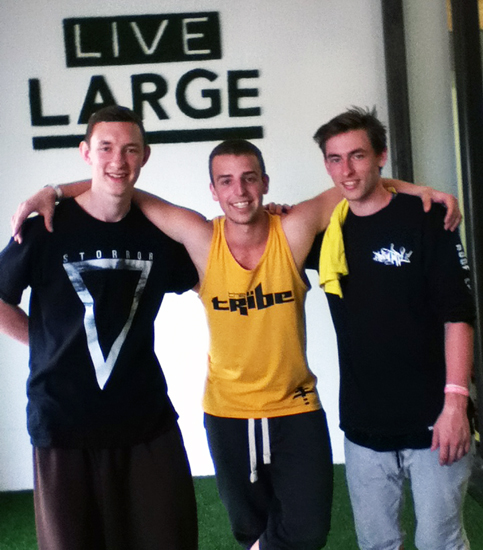 After the event, Cory Demeyers invited Andrew and myself to head to the after party, which was at Club W.  Club W is a very upscale nightclub and everyone there was dressed in suit and tie.  Unfortunately, I totally didn't bring fancy dress clothes on the trip (but thankfully neither did any of the other traceurs), so I wasn't particularly out of place.  The outdoor patio was pretty cool and even though that kind of thing isn't the common traceur's usual scene, all of us still had a pretty decent night and were able to ring in Cory's birthday at midnight.
Later on, Andrew, Sergio "Steel" Cora, Pedro "Phosky" Leon, Shaun Wood, Jason Paul, Anan Anwar and myself ended up going on some after party shenanigans which turned out to be a pretty solid way to finish off the night.
Monday proved to be a rest day but on Tuesday Jeff took Andrew and myself to a few local spots.  It was a pretty relaxed session in which we worked on a lot of technical jumps, I definitely learned a lot and it was fun to make up new challenges in environments I hadn't played in before.
Tuesday evening the homies Bart Van Der Linden, Christian Harmat and Kevin Fluri came to stay with us for the rest of the week, which meant fitting all of us into Jeff's truck became an all out war for the comfiest seats.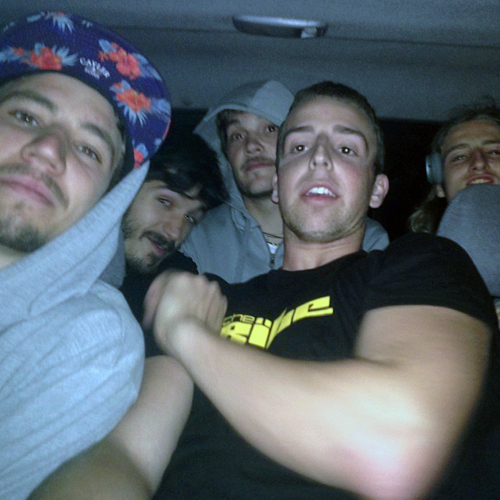 On Wednesday Paul "Diddy" Darnell, the founder of Tempest Freerunning, graciously allowed me, Bart, Andrew and the WPF duo to come train at Tempest in the morning when no one was in there.  When the six of us arrived, Paul was there getting warmed up and throughout the day a few other traceurs came out to play including Pasha Petkuns, Sasha Sheva, Stanislav "Stas" Lazdan, and Daniel Ilabaca.
At this point, I felt a bit pressured to do some filming, since it was my last day in Los Angeles, I really hadn't recorded too much thus far, and I wanted some footage to remember the trip with.  As a result, I ended up spending most of the time filming as opposed to just having fun jamming with the other traceurs in the gym, but I figure this provides me with an excuse to go back soon to train with them!  Below is a video of Danny training at Tempest Wednesday morning shot by one of the pros, Jakk Lowry.
In the afternoon Andrew, Kevin, Bart, Christian, and myself went and trained outdoors, grabbed some smoothies then headed back to Tempest for open gym.  When we arrived Team Farang was there and so were a few locals.  This gym session was more focused on having fun, learning and sharing.
I ended up showing Anan a pretty cool transition move that I created that he said he would probably use in one of their upcoming videos.  Overall, this gym session was a solid way to end my trip to California.  I look forward to going back and would like to extend thanks to Jacob for hosting me, to Tempest for putting on a phenomenal event and to everyone I met and the old friends I saw.
I will likely have some clips from the trip in my next video on my youtube channel, if you want to check them out.  Until next time, train safe!