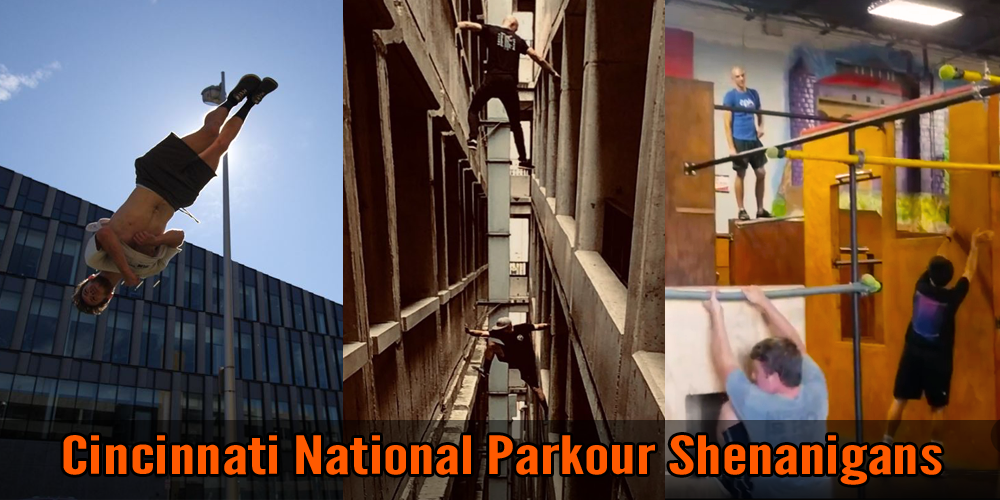 Ohio is misunderstood. Most think of Ohio as a state full of cornfields, Midwestern hospitality, and empty space. And as much as I'd love to disagree with you, you're right for the most part, with the exception of Ohio's three big C's: Columbus, Cleveland, and Cincinnati.
From a terrain perspective, Cincinnati uniquely sets itself apart from the rest of Ohio. It is very hilly, borderline mountainous in certain areas, and a former rust belt city. These factors contribute to the city having mile-for-mile the most amount of high quality Parkour training spots in the Midwest (the other contender being Minneapolis). For the past seven years, practitioners have come to town for the Cincinnati National Jam right as the brisk autumn weather sets in for a weekend of hard training and shenanigans.
Hosted by Swift Movement Studio, the event ran from Friday evening to Sunday noon, with perfect mid-60s weather giving all attendees the motivation to push themselves right out the gate. Jam itinerary was as followed:
Friday:
Downtown Cincinnati: 5-9pm
Swift Movement Open Gym: 9pm-Midnight
Saturday:
University of Cincinnati: 11am-4:30pm
Sketch-tech Check – Skill Competition @ Swift: 5-7:30pm
Open Gym/Art of Motion Viewing Party: 7:30pm-Midnight
Sunday:
Paycor, Cincinnati: 12-2pm
Rookwood, Cincinnati: 2-4pm
Swift soft-opened the other half of their facility this weekend, effectively doubling the space. This gave attendees lots of space for options Saturday evening with half the jam casually training and the other half participating in the Sketch-Tech-Check Skill Competition organized by Swift owner Matt Peveley.
The Skill Competition was formatted in two rounds with 10 challenges per round. It had some of the weirdest, uncomfortable, but ultimately most interesting and enjoyable challenges of any skills competition in recent memory. Scores were awarded by "sticking the landing," and the top three positions were all captured by APK Ambassadors and Sponsored Athletes:
1st: Seth Rujiraviriyapinyo (15 Challenges)
2nd: Christian Whitworth (14 Challenges)
3rd: Wenxin Yang (9 Challenges)

The 7th Cincinnati National Jam wrapped up once again as an amazing gathering of communities from the Midwest (and beyond). The atmosphere was casual and filled with friendly faces everywhere. It was the perfect event for newcomers of the sport or veterans trying to push their boundaries.
Expect next year to bring more parkour shenanigans and fun to Ohio!